How to become a successful NFT artist
NFT artists are making a killing in 2022. With the adoption of massive companies, NFTs have entered the mainstream economy. An NFT artist, is at the pillar of such a hierarchy.
This modern era of financial instruments and artwork has opened endless opportunities to artists worldwide. Both art collectors and cryptocurrency fanatics are lining up to find new and interesting digital artwork to invest in. However, they are not the only ones. In this modern day, nations cannot escape abnormal inflation and investors are looking to store their wealth in more secure assets.
How are NFTs secure assets?
Non–fungible tokens are secure by definition. They cannot be replaced, nor deleted. They, exist, forever. On top of that, they cannot be damaged by wars, climate change, or even out of simple-human mistakes such as dropping them on the ground. Each NFT is unique in it's own way, and the owner may always be identified via which wallet the asset belongs to.
What is a NFT Artist?
NFT Artists, simply put, create digital artwork and import said artwork onto the blockchain. The NFTs are then posted for sale in as a token, specifically a non-fungible token. Therefore, an NFT artist is simply an artist whom makes use of NFTs to bring in more exposure, and earn a living.
Is selling NFTs hard?
This depends on many variables. If you are a celebrity such as Eminem, Ed Sheeran, or Taylor swift, you will have no problem making sales. However, if you are just starting out – those sales will take some effort. Since you are an artist, creating art is your thing, but perhaps marketing is not. You will need some basic marketing to ensure your success within the industry. If you are new to this area, I would highly suggest reading our article: "4 Tips for Marketing your NFT Collection"
How much do NFT Artists Make?
How much an NFT artist makes depends on quite a few external factors. Just like movie actors, this often comes down to you and your arts popularity. However, it is often you see articles about an NFT artist making over $1M+ in under a year.
The secret formula to earning an income from NFT artwork is: audience size * quality * quantity. If your audience size and quality are zero, and you multiply this against a quantity of 10,000, your earnings are still $0. Thus, it isn't rare that artists fail in this industry due to lack of audience or quality of art.
Great, so how do I become an NFT artist?
If you are not already an artist of some form, I would suggest pursuing the a skill within art. Find out what you are most passionate about. Is it music, drawing, stenciling, comics, 3d, animations? Pick one and learn it.
Once you have your art skills, start building up your audience. Create as many social profiles as you can (Facebook, Twitter, Instagram, Tik tok), and post multiple times per week. Find other artists to collaborate or at least share each others art work. Even though you are aiming to build a digital audience, I would also highly suggest attending local art galleries and events. Bring some business cards!
Once you start to build an audience, you are on your way to becoming a successful NFT artist. So, what's next?
THE NFT! Now it is time to create your NFT, and you have some choices. Are you going to create single one-off NFTs and sell each one individually? Or, are you going to create entire NFT collections? NFT collections are typically based around some type of theme, character, or story. Often times, these collections are upwards of 10,000 NFTs. That.. sounds like a lot of work, doesn't it? Perhaps not, as most NFT collections use a nft collection generator to do the work for them.
What is a NFT collection generator?
An NFT collection generator enables an artist to upload their artwork, and create a nft collection. A Ethereum NFT generator enables you to make an NFT collection online, without any code experience. The process starts with layers. Each layer represents a specific trait. For example, eyes could be one layer, hair could be another, and glasses a third. The artist would then have multiple traits under each of these layers, such as different hair styles. The artist may then even choose specific rarities for traits to ensure they are only produced every so often when using the random NFT generator.
Should I use a random NFT generator?
If you are aiming to build an NFT collection of 100+, this may be your best bet. However, if you are only looking to create one-off digital artwork to sell individually, there is no need for a random NFT generator. You do not need to create a NFT collection if you are only going to be selling individual NFTs themselves.
Which NFT Generator should I use?
Well, glad you asked! We offer an NFT Generator here at Generate NFT Online. Our NFT generator allows you to upload your artwork into layers, sort your trait and layer rarities, and generate collections of up to 10,000 NFTs. On top of that, we also have an NFT contract minter enabling you the power of uploading your entire collection to the blockchain.
What if I do not want to create a NFT collection?
No worries! There is still plenty of artists selling individual piece work on the marketplaces. Although creating an NFT collection may be more lucrative, it is not a necessity! Creating NFT artwork piece by piece may also be easier and more affordable for the starting artist.
Ok, so how do I create an NFT?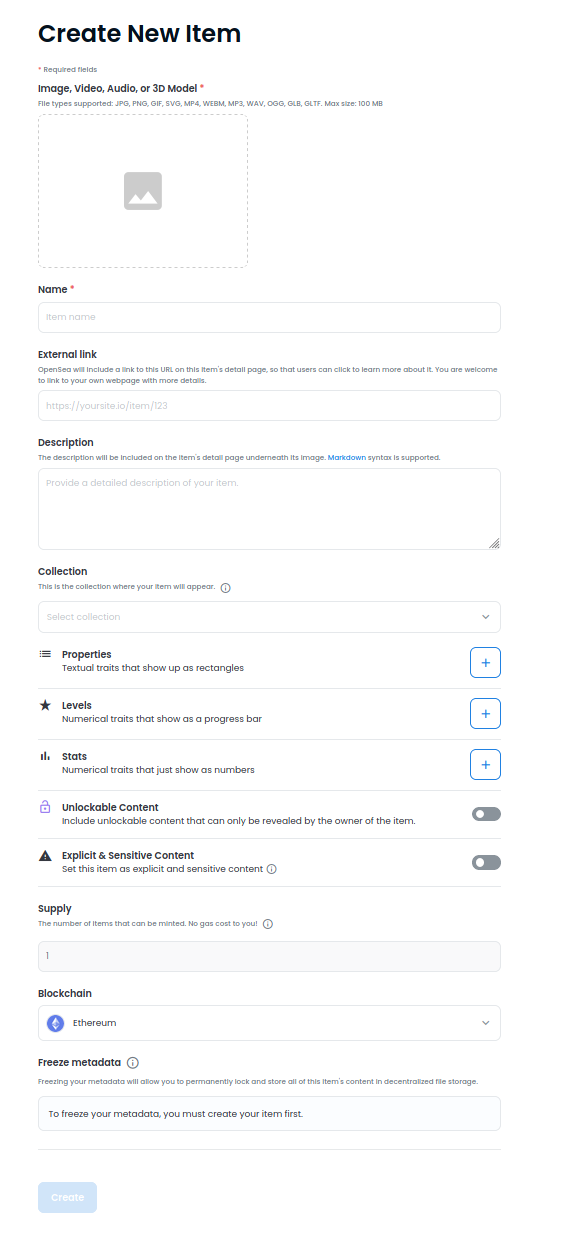 Creating a singular NFT is no longer a complex task. NFT Artists may use marketplaces such as OpenSea to directly upload their artwork, and turn them into an NFT within just a couple of minutes.
What you will need:
Metamask wallet
Some Ethereum tokens (or MATIC if using Polygon network)
Your artwork
Head over to https://opensea.io and login to create your NFT.
The process to create an NFT is seamless. Simply upload your artwork, name and describe your artwork, and configure the art settings. Once you are done, click "Create" in which you will then be prompted by your metamask wallet to confirm the transaction. Once you have confirmed the transaction, your NFT will now be on the blockchain!
How do I sell my NFT art?
Once your NFT has been created, it is as simple as visiting your NFTs page on OpenSea, and clicking "Sell". You will then have to set your price, the duration of the sale, and whether or not the sale is a fixed price or an auction.
You will now be prompted with another Metamask popup, asking you to confirm your transaction. Click "Confirm". The NFT will successfully have been listed for sale on Opensea!
You are now an NFT Artist!
Congratulations on become an NFT artist! You are now set to start building an income from your very passion. Please feel to continue to search around our website for tools, articles, and tips on helping you become an even greater, successful NFT artist.
NFT Art Ideas
Now you know the process of becoming a successful NFT artist, but what are some NFT art ideas for your project? The most popular type of art style within the industry is constantly changing, however, there is a constant theme. The most frequently desired NFTs typically have a theme, and that theme is based on a character. Now, your character does not need to be an actual recognized character, if anything you may have to refrain from such to avoid copyright issues. Instead, create your own character. Your character does not have to be a human. In fact, the most popular NFTs are typically animals, zombies, or even aliens.
Here are some basics to keep in mind before we get to the NFT art ideas:
Develop a theme around your character or NFT
The NFT collection should tell a story, perhaps you could even have a story or comic on your website
Ensure your artwork is unique and of great quality
Consider some animations within your NFT to give it some extra "flash"
Here are a list of NFT art ideas I believe would make it big if done correctly:
Satoshi collective (NFTs based on Satoshi Nakamoto, the creator of Bitcoin)
Lazer Eyes NFTs (based on those whom have "lazer eyes", and thus are huge cryptocurrency advocates)
NFTs about the dying of fiat, and the digitization of artwork in itself!
NFTs about dinosaur fossils.
NFT Game characters (better if you are a game developer)
Cypherpunks NFTs
Freedom & democracy based NFTs, not too get too political!